Ferrari 355 Buying Guide

Buyers Guide Ferrari 355
May 1994 until 1999
Ferrari 355 buyers guide
The Ferrari 355 produced in 1994 with two models the GTS and the Berlinetta the spider came later that year.
In 1997 the F1 was introduced which was the manual  gearbox with hydraulic controls.
In 1990 63555 from a 2.7  motonic to a later less powerful 5.2 moTronic Bosch injection system.
The way to tell these models apart quickly early cars 2.7 moTronic twin airflow metres later cars to 5.2   moTronic single airflow meter
Some vehicles were equipped with a Fiorrano handling pack, quicker steering rack, stiffer lower suspension, stiffer rollbars
So when buying a 355 prices may vary considerably depending on what extras the vehicle has come with, so don't always go off price go off spec! A good service history is essential for re-sellable and will have a premium!
Some main aspects to look for is blowing exhaust manifolds these can create a multiple of problems and faults from slowdown lights to check engine faults
Thermocouple ECU slowdown light faults early EC use were black and late EC use were green.
Check when running that the alarm LED lights goes out if it stays illuminated this is usually a dead battery back up in the siren. This can create a multitude of faults usually battery drain.
A common fault the sticky window switches door handles vents have the rubber breakdown from UV light.
Check if F1 system is working correctly and also clutch work can be checked with the Ferrari tester SD2.
Wiper arm where, a common problem with the pivot pins wearing.
Check for engine and gearbox leaks, clutch seals are coming for leaking normally clutch pedal requires pumping. Or if F1 system he will not be able to engage gear.
Check on bodywork on the rear wing checking that both parts of the wings where the meat haven't corroded or cracked this is where both panels flex.
Make sure the vehicle comes with two black alarm key fobs and one red key fob this is the controller without this you will not be able to re- new alarm fobs to vehicle to the vehicle and could prove very costly!
Check for airbag illumination and then the light illuminates with ignition on and goes off when running we are seeing a lot of battery backup fails on the airbag ECU Ferrari are currently out of stock this could be an MOT failure! This is an MOT failure!

We Provide comprehensive maintenance services for Ferrari
Unique Specialist Services
Fun Facts
Did you know that he 355 was the first Ferrari where they concentrated on the drivability at all speeds including low speed in slow moving traffic!
The 355 went head to head with an Ashton Martin in Golden Eye!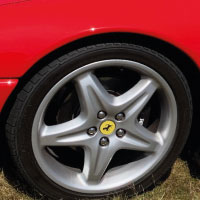 R&D Automotive Services
We would strongly recommend those at R&D automotive to carry out a pre-inspection on your vehicle as this could be very costly if the vehicle is riddled with problems and faults…
Ring  R & D Automotive to discuss your requirements and further details. 0161 789 3555
R&D the Smarter way to maintain your Porsche
Ordinary People Extrodinary Service
   Ferrari services for new and Classic Cars